We are wizards of words! We know how to play beautifully with words for search engines and readers alike.
Content strategy mainly focuses on planning, creation, delivery and governance of content. Content includes words, images and multimedia used. Useful, usable, well structured and excellent quality content improves the user experience of a website.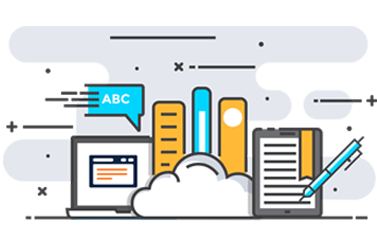 You need to understand and follow the content lifecycle to produce compelling content.
Producing compelling and sustainable content means that you need to understand and follow the content lifecycle. In general content life cycle includes the following five stages:
Audit and Analysis
Includes content stakeholder interviews/meeting, competitive and objective analysis and evaluation of website, sister and/or parent sites and partner content.
Strategy
Determining process and flow of content creation, taxonomy, sourcing plan and brand definition
Plan
Metadata plan, migration plan, communications plan, content management system customization.
Create
Content/copy writing, SEO (Search Engine Optimization) content, Blogs/PR/Articles
Maintain
Plan for periodic auditing, educate the client, determining targets for success measure
Best Practices for Creating Meaningful Content
Below mentioned are the best practices that help to develop relevant content.
Content should:
Be Simple. Keep your content simple and easy to understand. This helps in better communication with people.
Be useful. Keep only the useful content and discard the portion that is not required. Keep your content up-to-date. The information must be authentic and include facts.
Be accessible to everybody. You must ensure that every user can access the information provided by you.
Consistency is crucial. Make sure to follow style guides for language and design so that you can communicate more efficiently.
Be visible. Make sure that users can find your content easily through navigation and also through search engines.
Other 3 main areas of Service