The most common question from the businesses is, "Is it really important to take business online?" Further, after explaining this, it is another task to make them understand the usage and importance of Google My Business (GMB) for their business in today's competitive world. If you are not online that means you are missing major chunk of potential business. So, if you are looking for better reach, you must focus on taking your business online.
Build your Identity with Google My Business (GMB):
Your business needs an identity. Google My Business allows you to create a business listing on Google. Your business should have 'Google My Business' page and focus on achieving good ranking in Google Business Listing. You should put all your efforts in ranking the keywords on the Google business listing. This profile has everything like your business description, store, services, locations, contact details, etc. Google has search market share of 70% globally.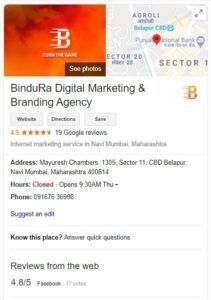 How 'Google My Business' (GMB) looks Online?
What do you do if you need to search something for your business? Yes, you guessed it right; search on the Google for the relevant keywords or key phrases. Let us consider an example that you are looking for a Digital Agency in Mumbai on search engine so you search for BinduRa Digital Marketing & Branding Agency. In the below mentioned image, you can see the search results showcasing the website on top and 2nd result is the Linkedin profile link that is achieved through a proper Search Engine Optimization (SEO). The profile showcased in the below mentioned image on the right hand side is of Google My Business (GMB) page.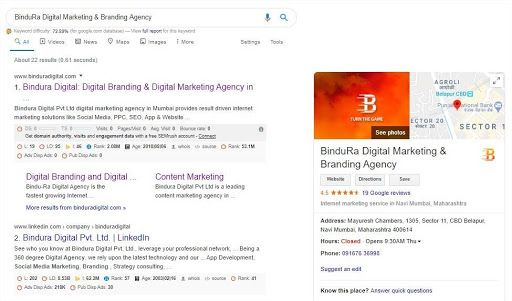 Let Us Understand The Reasons to Take Business Online:
You have various ways to be online i.e. website, social media channels, e-commerce portals for your business to sell the products or services to the world.
Let us see a few important considerations:
Build and Maintain your brand

Build the trust among the customers and potentials

Potential customers can search and reach you

Widen your reach globally for services or products

Reduced overhead costs and better profit optimization

Improved sales and support figures for your business

Study and implement better strategies through online research
Online businesses can have better reach to the potential customers helping to easily convert them into leads and sales. This can also help your business to build reputation online.
Things can be done through Google My Business (GMB)
Google My Business is a strong medium to drive more and more new customers through the search engines.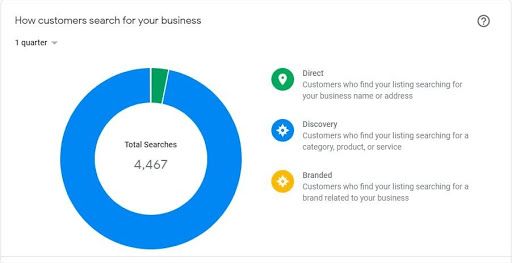 Your business can easily:
Download Google My Business App and update company Profile anytime.

Highlight your products and services to the customers through an app

Keep updating your customers with the posts, photos, and videos with information

Ask your customers for reviews that can be influential in improving conversion rates.

Check reports for 1 week, 1 month and 1 quarter in graphical format too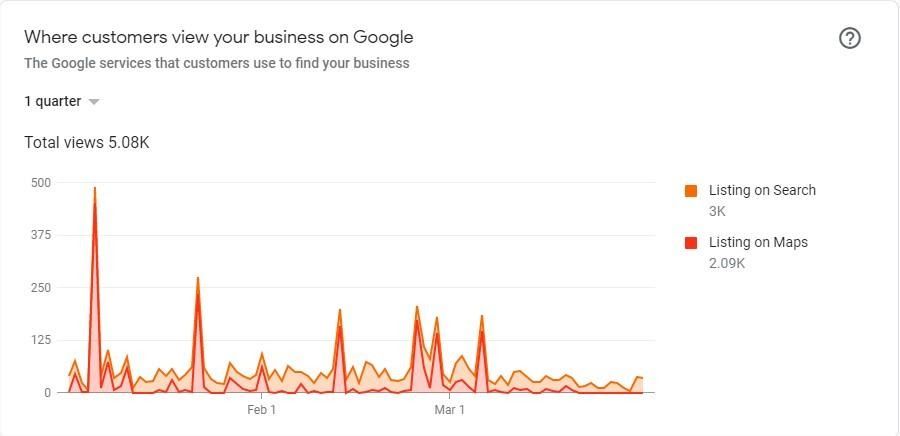 If your business can take care of all these activities regularly, there are high chances of driving more traffic to your GMB page. This can be helpful in improving your conversion ratios.
How to Drive Customer Engagement on Google with GMB
Customer engagement is important but it comes at a later stage. Let us also understand essentials and guidelines of Google for all the businesses:
A company with physical location can create profile (Address Verification)

Publish Original, Non-prohibited and Authentic content and activities

Follow all the branding guidelines while posting the updates

Make use of keywords from "Search Query" reports  like shown in below image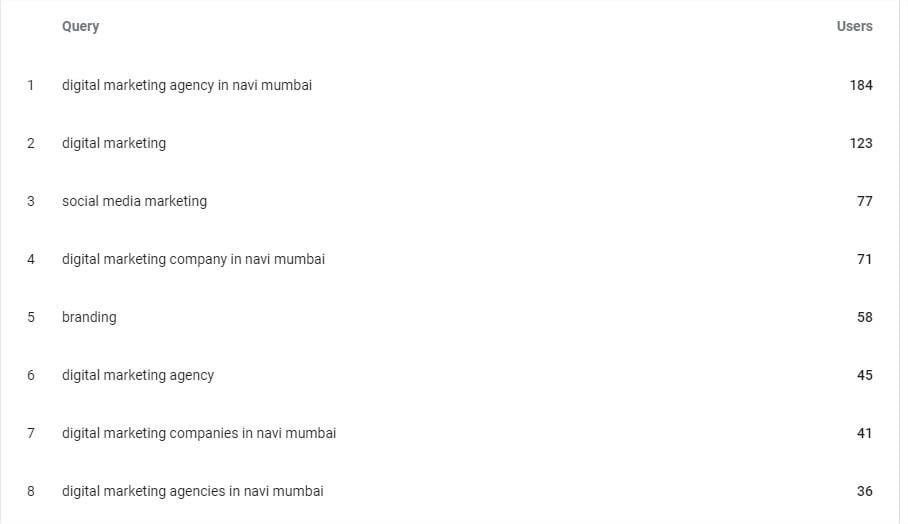 With the help of these keywords, you should create good quality content for your readers and keep sharing it with them through your social channels. You should not ignore the relevance of using Google Business Listing for your business as it is very important for your brand. You should make optimum use of this platform for your business to drive better traffic and conversion. These contents can be used by all the Google profiles helping your business in LOCAL SEO. You should always have uniformity in the content on all the branding channels, else it can be a negative impact on your search rankings.
'Google My Business' (GMB) is considered as the most powerful tool for promoting the business online and most of our clients are taking advantage of the same. 
If you are not on GMB, it is surely time to – Create and Optimize your GMB profile now! 
Take your brand's online marketing to the next level with a leading Digital Marketing and Branding Agency that can strategize and implement local SEO strategies for your business. Read more about it in our blogs.